Waxed FSC hardwood and Venetian plaster wetroom accommodating reclaimed bath.
The floor in the existing bathroom was mostly rotten so had to be stripped down, floor boards binned and half the joists replaced. The opportunity was taken to set the new floor to fall towards the centre of the room into a new floor drain.  The outside wall was internally insulated with 40mm of high density glass fibre then overclad with cementitious particle board (Viroc) as it is moisture resistant and stable (although it turns out not quite stable enough to avoid hairline cracks in the plaster). This was then coated in a sheet of thin polyester webbing soaked in liquid neoprene in all the areas likely to get a soaking. Due to the amount of movement in the floor the usual tile solution was not advisable so the floor and most of the 2 long walls were covered in 18mm tongue and groove FSC certified Cumaru from the Ecological Timber Company.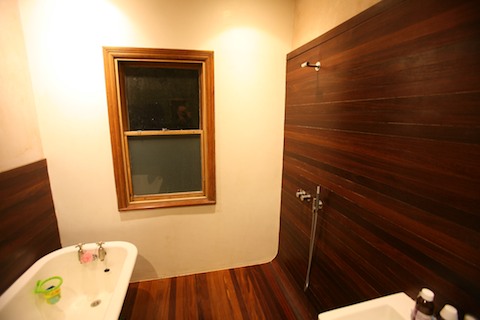 The internal face of the outside wall was covered in Venetian plaster from The Polished Plaster Company, the raw materials from Keighley, applied by our plasterer. The floor and polished plaster are waxed regularly and so far there have been no problems. The bath and taps are the originals. The bath was reglazed, taps just serviced and cleaned. The new taps are low flow spray taps.